Exponential Growth
---
Statistics
World
Active: 60,843
Deaths: 4,940
Recovered: 67,203
Total Confirmed: 132,986
United States
Active: 1460
Deaths: 39
Recovered: 8
Total Confirmed: 1507
RCFR: Not Enough Data
China
Active: 19,287
Deaths: 3,158
Recovered: 61,496
Total Confirmed: 80,783
RCFR: 4.9%
Well, it's just another day but it seems as if the news around this virus is increasing exponentially! Exponential growth rates are particularly tricky for humans to deal with. At first, the rate appears to be slow, and then all of a sudden the numbers start exploding in your face and you have no idea what just happened.
Not surprisingly, COVID-19 cases and deaths appear to be growing exponentially in many countries just as Japan and China appear to have begun winning some ground back.
Many European nations are on the same road Italy has been traveling. Switzerland is 6 days behind where Italy is today. Spain, Belgium, The Netherlands, and France are about 9 days back. Germany is 10 days behind. The UK is 13 days and the United States is just over 2 weeks out at 16 days.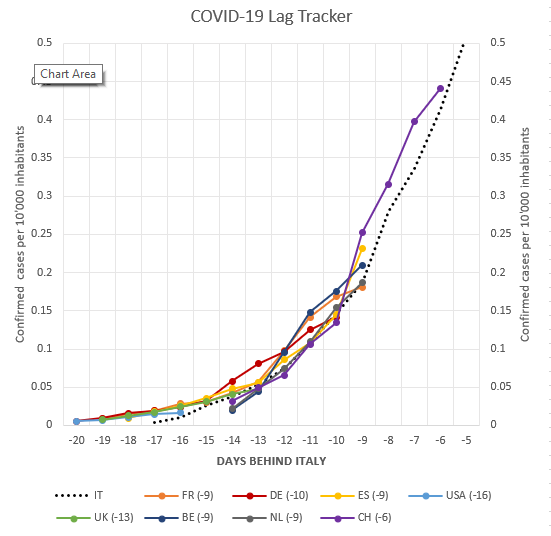 And what's happening today in Italy is that the Government has ordered the shutdown of all non-essential shops. This is everything besides pharmacies and grocery stores. Food deliveries are being permitted. Public transportation and mail delivery continue to operate.
The United States Federal, State, and Local governments, as well as private organizations are starting to take increasingly drastic moves to help slow down the rate of infections currently taking place.
National Declaration of Emergency?
CNN reports that the White House has already decided to declare a formal state of emergency, and is going through a round of legal reviews before it is signed, likely tonight (Thursday).
The declaration would free up funding and allow the Federal Emergency Management Agency to head up certain aspects of the outbreak response.
FEMA will now play an expanded part, in support of the CDC (Centers For Disease Control) and the HHS (Health & Human Services).
New York City declared a state of emergency today.
Yes, It's Cancelled
Late last night after I had gone to sleep, President Trump made a live broadcast announcing the suspension of almost all travel from Europe for the next 30 days. The speech the President gave had several misstatements in it, which were cleared up via Tweet later last night.
The ban starts Friday, March 13th. The ban only applies to the 26 countries within the EU's Schengen region and excepts the UK (for now!). European leaders were not informed of the decision before it was broadcast, and it was widely denounced as not super helpful.
Panicked Americans in Europe scrambled to try and find tickets home, sometimes paying up to $20,000 to secure a way out of Europe before the ban is enacted. The State Department issued a Global Level 3 Advisory and suggested all Americans reconsider travel abroad.
Will domestic travel restrictions be next?
Asked by a reporter in the Oval Office whether he was considering limits on travel inside the country to hard-hit states like Washington or California, Mr. Trump said the subject had not yet been discussed, before adding: "Is it a possibility? Yes, if somebody gets a little bit out of control, if an area gets too hot."
What this response actually means is still up for debate.
The NBA, NCAA, and NHL are shutting down
In the last 24 hours the NBA and NCAA have canceled their extremely popular tournaments. The NHL is suspending its season for the meantime. The NBA announced their decision after a player for the Utah Jazz tested positive for the virus
Six Possible Fallouts From the Suspended NBA Season (Sports Illustrated): "Arena workers, game day operations and others stand to lose hourly wages … Businesses nearby NBA arenas will lose sales and could lay off staff… Sponsors and network partners will check their contracts…"
NHL Suspends Season Amid Coronavirus Concerns (Bleacher Report): "In light of ongoing developments resulting from the coronavirus, and after consulting with medical experts and convening a conference call of the Board of Governors, the National Hockey League is announcing today that it will pause the 2019‑20 season beginning with tonight's games."
NCAA cancels men's and women's basketball tournament due to Coronavirus concerns(USA Today): "Today, NCAA President Mark Emmert and the Board of Governors canceled the Division I men's and women's 2020 basketball tournaments, as well as all remaining winter and spring NCAA championships,"
We had just heard yesterday that the NCAA had intended to continue with the tournament, only without players in the stands.
Art and Performance Venues are Calling It Quits
A number of extremely popular art and performance venues in the New York City area are cancelling upcoming shows as we speak. The most significant impact may come from Broadway shows.
After an usher at two shows tested positive for COVID-19, a complete shutdown of all broadway shows was announced. This is mostly due to restrictions the New York Governor put on events where more than 500 people are in attendance. This ban lasts through April 12th.
On top of that The Metropolitan Museum is closing all of its locations in New York, without a target re-opening date. Additionally the Metropolitan Opera, the New York Philharmonic, and Carnagie Hall all announced shut downs.
Hollywood is shutting down
Not many people are going to be going to movie theaters and the movie industry knows this. TV show productions and movie premieres are being cancelled. Movie release dates are being pushed back.
Effectively all late night TV talk shows have begun filming their shows without live audiences.
Not Disneyland too!
In a move that 100% of people saw coming, Disneyland in California is shutting down through the rest of the month.
Georgia is locking it down
The University System of Georgia, Atlanta Public Schools are closing for two-weeks. Chicago, NYC, and LA are likely not far behind.
The Government is on this now, right?
Well Congress did cancel its week-long recess and got back to work, which is probably important right now.
However its not looking good for some of the plans already floating around:
The behind-the-scenes negotiations between Democrats and the White House stood in contrast to the partisan response that greeted a package of economic measures that House Democrats introduced late Wednesday.
The House bill includes a $2 billion boost to state unemployment insurance programs, more than $1 billion in nutritional aid, a new paid-leave benefit for employees affected by the outbreak and an increase in federal Medicaid spending, as well as a guarantee of free coronavirus testing.
That package met a frosty reception early Thursday from the White House and congressional Republicans, who were wary of the bill's costs and its potential burdens on employers.
That being said, many legislators feel left completely in the dark as to why there are not enough testing kits.
Nancy Pelosi has also been touting an upcoming "Families First" bill aimed at helping families affected by the outbreak.
It also seeks to give workers new protections, including paid emergency leave, with both 14 days of paid sick leave and up to three months of paid family and medical leave, as well as enhanced unemployment insurance, which will extend protections to furloughed workers.
The bill would further create new protections for frontline workers, such as healthcare workers and others who may have to come into contact with those who have been exposed to coronavirus or who are responsible for cleaning at-risk places.
In addition to supporting workers, the "Families First" bill would also seek to strengthen food security initiatives, including SNAP, food bank services, student meals and senior nutrition programs, while also increasing federal funds for Medicaid, as states across the country face increased costs.
At least our economy isn't collapsing
Stock market news live: S&P 500 enters bear market, Dow plunges 10% in biggest one-day percentage drop since 1987
Who's infected now?
Perhaps the first celebrity to announce having been infected with COVID-19 is Tom Hanks. Rita Wilson, his wife, is also infected and they are both in self-quarantine.
A Brazilian official who met Trump and Pence last weekend has tested positive for COVID-19. At the moment, neither of the men will be tested to see if they contracted the virus.
The Prime Minister of Canada, Justin Trudeau is self-isolating after his wife, Sophie Grégoire Trudeau exhibited flu-like symptoms. She is being tested for COVID-19.
The first US Senate staffer tested positive for coronavirus.
---